The Host City
Edit
Oberhausen is a city on the river Emscher in the Ruhr Area, Germany, located between Duisburg and Essen. The city hosts the International Short Film Festival Oberhausen and its Gasometer Oberhausen is an anchor point of the European Route of Industrial Heritage.
Oberhausen was named for its 1847 railway station which had taken its name from the Oberhausen Castle (German: Schloss Oberhausen). The new borough was formed in 1862 following inflow of people for the local coal mines and steel mills. Awarded town rights in 1874, Oberhausen absorbed several neighbouring boroughs including Alstaden, parts of Styrum and Dümpten in 1910. Oberhausen became a city in 1901, and they incorporated the towns of Sterkrade and Osterfeld in 1929. The Ruhrchemie AG synthetic oil plant ("Oberhausen-Holten" or "Sterkrade/Holten") was a bombing target of the Oil Campaign of World War II, and the US Forces had reached the plant by 4 April 1945.
The city currently has a population of 210,000, of which 12.5% is of on-German origin, mostly migrant workers.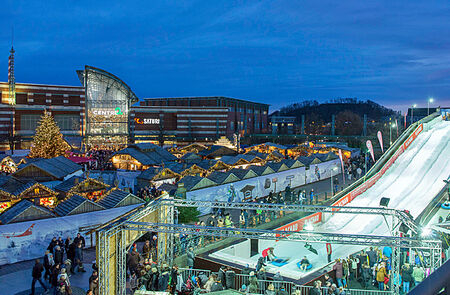 The Venue
Edit
König Pilsener Arena, formerly Arena Oberhausen, is an indoor sports arena, located in Oberhausen, North Rhine-Westphalia, Germany. The capacity of the arena is 13,000 and was opened in 1998.
Die König-Pilsener-ARENA was opened in 1996 as the Arena Oberhausen but changed its name in 1998 to Die König-Pilsener-ARENA.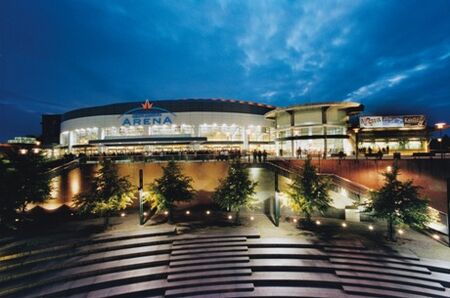 The Hosts
Edit
German actor Jochen Schropp.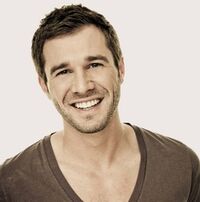 Comedian Cindy aus Marzahn.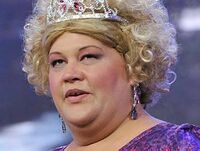 | Draw | FSC jury | Performer | Song | Place | Points |
| --- | --- | --- | --- | --- | --- |
| 01 | Germany | Culcha Candela | Berlin City Girl | 20 | 38 |
| 02 | Croatia | Alibi | Priča | 25 | 24 |
| 03 | Ukraine | Zlata Ognevich | Kolyskova #4 | 9 | 82 |
| 04 | Sweden | Veronica Maggio | Jag kommer | 8 | 83 |
| 05 | Albania | Teuta Selimi | Miqt e Mi | 16 | 44 |
| 06 | The Netherlands | Krystl | Golden Days | 10 | 76 |
| 07 | Denmark | Rasmus Walter | Dybt vand | 30 | 16 |
| 08 | Belgium | Selah Sue | This World | 17 | 42 |
| 09 | Hungary | Tóth Gabi | Elég volt | 19 | 39 |
| 10 | Russia | Sergey Lazarev | Instantly | 3 | 107 |
| 11 | Bosnia and Herzegovina | Crvena Jabuka | Do neba | 27 | 19 |
| 12 | Ireland | Imelda May | Mayhem | 21 | 32 |
| 13 | Morocco | Samira Said | Khalloh | 29 | 18 |
| 14 | France | Grand Corps Malade | Roméo kiffe Juliette | 13 | 52 |
| 15 | Serbia | Sasa Kovacevic ft. Nikolina Pisek | Idemo do mene | 12 | 58 |
| 16 | Austria | Cornelia Mooswalder | Should Have Let You Love Me | 5 | 93 |
| 17 | Romania | Catalin Josan | Don't Wanna Miss You | 4 | 102 |
| 18 | Spain | Malú | El apagón | 11 | 65 |
| 19 | Brazil | Claudia Leitte ft. Ricky Martin | Samba | 24 | 27 |
| 20 | Macedonia | Magdalena Cvetkoska Ena | Ucam od najdobriot | 15 | 47 |
| 21 | Bulgaria | Krisko feat. Elitsa Todorova | Ludi noshti | 26 | 23 |
| 22 | United Kingdom | Adele | Someone Like You (live) | 2 | 145 |
| 23 | USA | The Pretty Reckless | Just Tonight | 1 | 145 |
| 24 | Australia | Jessica Mauboy ft. Jay Sean | What Happened to Us | 7 | 85 |
| 25 | Turkey | Mor Ve Ötesi | Kara kutu | 28 | 18 |
| 26 | Canada | Mother Mother | The Stand | 23 | 29 |
| 27 | Norway | Marion Raven | Found Someone | 6 | 91 |
| 28 | Israel | Daniela & Ben Spector | Cut It Out | 22 | 31 |
| 29 | Slovenia | Kataya | To je moj dan | 14 | 49 |
| 30 | Azerbaijan | NEXT | Dance et | 18 | 40 |
The Results
Edit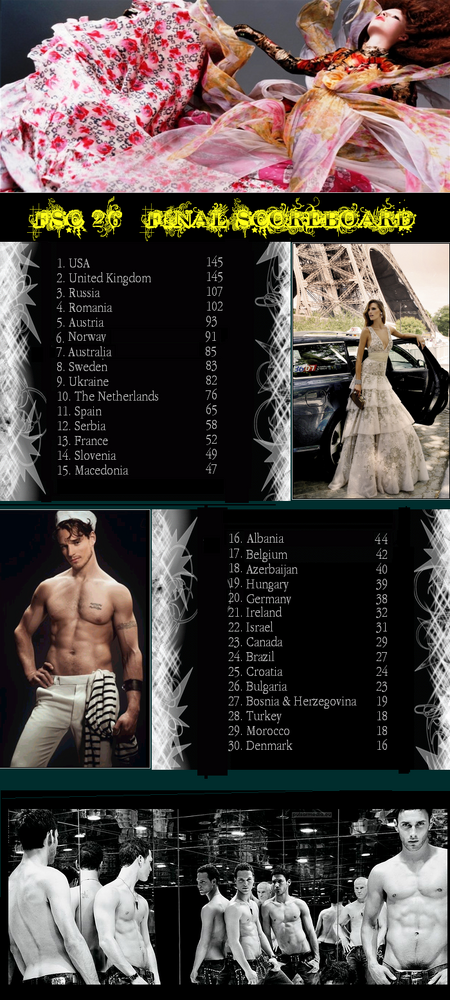 Detailed scoreboard
Edit

The Winner
Edit
The Pretty Reckless - Just tonight