The Host City
Edit
Rotterdam  is a city in the Netherlands, in South Holland within the Rhine–Meuse–Scheldt river delta at the North Sea. Its history goes back to 1270, when a dam was constructed in the Rotte river, after which people settled around it for safety. In 1340, Rotterdam was granted city rights by the Count of Holland.
A major logistic and economic centre, Rotterdam is Europe's largest port, and has a population of 633,471, the second-largest in the Netherlands, just behind Amsterdam.
Rotterdam is known for the Erasmus University, its riverside setting, lively cultural life, and maritime heritage. The near-complete destruction of the city centre in the World War II Rotterdam Blitz has resulted in a varied architectural landscape, including sky-scrapers (an uncommon sight in other Dutch cities).
Rotterdam's logistic success is based on its strategic location by the North Sea, at the mouth of the Nieuwe Maas channel leading into the Rhine–Meuse–Scheldt delta. The rivers Rhine, Meuse, and Scheldt give waterway access into the heart of Western Europe, including the highly industrialized Ruhr. The extensive distribution system including rail, roads, and waterways have earned Rotterdam the nicknames "Gateway to Europe" and "Gateway to the World"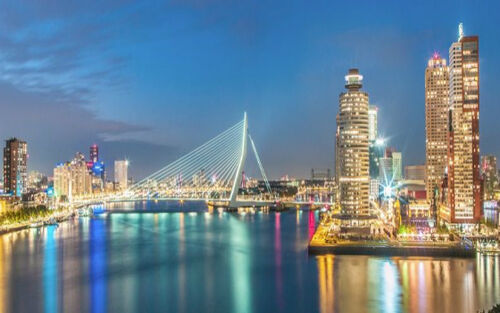 The Venue
Edit
Ahoy Rotterdam (often called merely Ahoy) is an indoor sporting arena in Rotterdam, Netherlands. The capacity of the arena is 13,000. Ahoy was built in 1970. The complex's striking design won various national and international awards for its special steel structures. The first event to be held there was the Femina family exhibition. Since then, Ahoy has been expanded on a number of occasions, and was renovated and refurbished in 1998 to create today's multifunctional venue.
The Hosts
Edit
Wendy van Dijk and Martijn Krabbé
| Draw | FSC jury | Performer | Song | Place | Points |
| --- | --- | --- | --- | --- | --- |
| 01 | Austria | Krautschädl | Khoids Wossa | 16 | 60 |
| 02 | Estonia | Aides | Unbelievable | 28 | 26 |
| 03 | Ireland | Royseven | Killer | 10 | 77 |
| 04 | Ukraine | Yolka | Brosai | 23 | 38 |
| 05 | Turkey | Hadise | Superman' | 6 | 109 |
| 06 | Poland | Enej | Rahela | 15 | 60 |
| 07 | Portugal | Ana Malhoa | Bomba Latina | 21 | 44 |
| 08 | Macedonia | Viktorija Loba | Sloboda | 34 | 17 |
| 09 | Hungary | Symbien feat. Shodeinde Dorka | The Goodbye Song | 37 | 6 |
| 10 | Bosnia and Herzegovina | Mirza Soljanin | Poljubi me | 14 | 64 |
| 11 | Azerbaijan | Diana Hajiyeva | Find Yourself | 29 | 24 |
| 12 | Brazil | Wanessa | Stuck On Repeat | 33 | 17 |
| 13 | USA | Rachel Platten | 1000 Ships | 1 | 179 |
| 14 | France | Shaka Ponk | Lets Bang | 25 | 32 |
| 15 | Spain | La Casa Azul | Todas Tus Amigas | 26 | 30 |
| 16 | Liechtenstein | Landvogt | Dragonfly | 30 | 23 |
| 17 | Sweden | Acid House Kings | Would You Say Stop | 12 | 67 |
| 18 | Serbia | Ivana Jordan | Kao ljubav | 36 | 8 |
| 19 | Slovenia | Nusa Derenda & Omar Nabe | Dusa moje duse | 27 | 27 |
| 20 | Taiwan | A-mei | Are You Looking At Me | 24 | 34 |
| 21 | Switzerland | Remady feat. Manu-L | Save Your Heart | 7 | 93 |
| 22 | Greece | Helena Paparizou | Baby It's Over | 2 | 141 |
| 23 | Germany | Frida Gold | Wovon Sollen Wir Traumen | 8 | 80 |
| 24 | Albania | Xhensila Myrtezaj | Engjelli im | 32 | 23 |
| 25 | Romania | Edward Maya feat. Vika Jigulina | Desert Rain | 3 | 132 |
| 26 | Canada | Candy Coated Killahz | Neon Black | 31 | 23 |
| 27 | Denmark | Mads Langer | Microscope | 17 | 53 |
| 28 | The Netherlands | Jim Bakkum | Feel Your Love | 4 | 131 |
| 29 | Russia | Anya Shesternina | Running Late | 9 | 79 |
| 30 | Israel | Yael Naim | Go To The River | 20 | 48 |
| 31 | Croatia | Magazin | Kemija | 11 | 76 |
| 32 | Italy | Nathalie | In punta di piedi | 5 | 110 |
| 33 | United Kingdom | Jamie Woon | Night Air | 22 | 39 |
| 34 | Australia | Havana Brown | We Run The Night | 13 | 64 |
| 35 | Belgium | Hooverphonic | Anger Never Dies | 19 | 49 |
| 36 | Bulgaria | Neli Petkova | Edin Vupros | 18 | 49 |
| 37 | Norway | Erik og Kriss feat. Byz | Olbriller | 35 | 14 |
The Results
Edit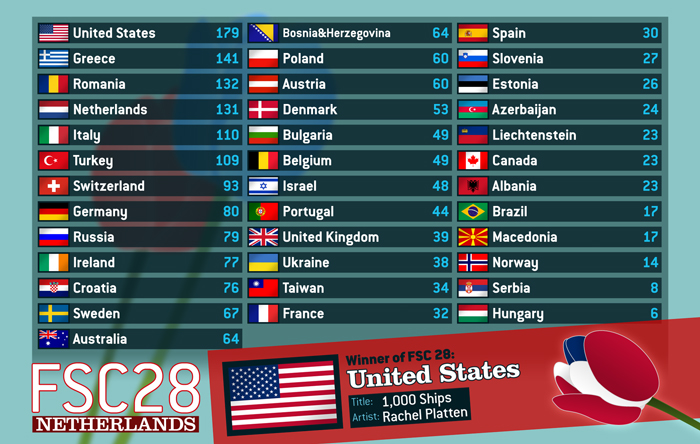 The Winner
Edit
Rachel Platten - 1000 Ships