The Host City
Edit
Casablanca is the largest city in Morocco, located in the central-western part of the country bordering the Atlantic Ocean. It is the largest city in the Maghreb, as well as one of the largest and most important cities in Africa, both economically and demographically.
Casablanca is Morocco's chief port and one of the largest financial centers on the continent. The 2012 census (adjusted with recent numbers) recorded a population of about 4 million in the prefecture of Casablanca. Casablanca is considered the economic and business center of Morocco, although the national political capital is Rabat.
The leading Moroccan companies and international corporations doing Moroccan business have their headquarters and main industrial facilities in Casablanca. Recent industrial statistics show Casablanca retains its historical position as the main industrial zone of the country. The Port of Casablanca is one of the largest artificial ports in the world, and the second largest port of North Africa, after Tanger-Med 40 km east of Tangier. Casablanca also hosts the primary naval base for the Royal Moroccan Navy.
Casablanca is home to the Hassan II Mosque, designed by the French architect Michel Pinseau. It is situated on a promontory on the Atlantic Ocean. The mosque has room for 25,000 worshippers inside, and a further 80,000 can be accommodated in the mosque's courtyard. Its minaret is the world's tallest at 210 metres (690 feet). The mosque is also the largest in North Africa, and the third-largest in the world.
The Venue
Edit
Grand Stade de Casablanca
The Hosts
Edit
Princess Lalla Salma born Salma Bennani, born 10 May 1978 in Fes, is the princess consort of Morocco. She is the wife of King Mohammed VI and the first wife of a Moroccan ruler to have been publicly acknowledged and given a royal title.
David Guetta (born 7 November 1967) is a French DJ, record producer, remixer, and songwriter. He co-founded Gum Productions with Lisa Dodgson and released his first album, Just a Little More Love, in 2002. Later, he released Guetta Blaster (2004) and Pop Life (2007).
Guetta achieved mainstream success with his 2009 album One Love which included the hit singles "When Love Takes Over", "Gettin' Over You", "Sexy Bitch", and "Memories".
Guetta has sold over nine million albums and 30 million singles worldwide. In 2011 Guetta was voted as the number one DJ in the 'DJ Mag Top 100 DJs' fan poll.

| Draw | FSC jury | Performer | Song | Place | Points |
| --- | --- | --- | --- | --- | --- |
| 01 | Albania | Zig Zag Orchestra & Anjeza Shahini | Ti dhe unë | 33 | 21 |
| 02 | Belgium | Gotye ft. Kimbra | Somebody that I Used to Know | 1 | 148 |
| 03 | Croatia | Jelena Rozga | Razmažena | 8 | 104 |
| 04 | Morocco | Ali B ft. Brace | Summertime | 37 | 13 |
| 05 | France | Nôze ft. Wareika | Exodus | 25 | 39 |
| 06 | Azerbaijan | Miri Yusif | Men hechkimem | 35 | 18 |
| 07 | Canada | Lights | Toes | 7 | 109 |
| 08 | Sweden | Still Pee & Ru | Done Did It | 27 | 37 |
| 09 | Serbia | Ksenija Mijatović | Igra | 30 | 35 |
| 10 | United Kingdom | Will Young | Jealousy | 4 | 114 |
| 11 | Ireland | The Wonder Villains | Zola | 18 | 50 |
| 12 | Norway | Helene Bøksle | Hildring | 5 | 111 |
| 13 | Romania | Catalin Josan | Walking on Fire | 6 | 110 |
| 14 | Mexico | Sandra Echeverría | La fuerza del destino | 3 | 116 |
| 15 | Spain | Virginia | The Time is Now | 14 | 62 |
| 16 | Greece | Cabin 54 | It's not Easy | 38 | 8 |
| 17 | Germany | Glasperlenspiel | Echt | 9 | 76 |
| 18 | Estonia | Outloudz | Monkey Business | 13 | 64 |
| 19 | Cyprus | Marlain | Today | 36 | 14 |
| 20 | Slovenia | Victory | Dan brez tebe | 31 | 34 |
| 21 | Austria | Hubert von Goisern | Brenna tuats guat | 20 | 48 |
| 22 | Brazil | Wanessa | DNA | 12 | 66 |
| 23 | Finland | Chisu | Minä ja mun pää | 26 | 37 |
| 24 | Macedonia | Darko Ilievski & Nikola Paunovik | Jas sum toj | 28 | 36 |
| 25 | Turkey | Aydilge | Akıllı Bir Deli | 29 | 36 |
| 26 | Taiwan | R.Chord | When You Grow Up | 39 | 5 |
| 27 | The Netherlands | One Thousand Voices | The Voice of Holland | 17 | 53 |
| 28 | Russia | Michael Blayze & AnYa Shesternina | Heal the Pain | 32 | 21 |
| 29 | Italy | Tiziano Ferro | La differenza tra me e te | 10 | 71 |
| 30 | Israel | Miri Mesika | Melech | 15 | 62 |
| 31 | Montenegro | Boajn Marović | Mislim na nas | 21 | 46 |
| 32 | Denmark | Aura Dione | Geronimo | 2 | 148 |
| 33 | Ukraine | Max Barskih | Downtown | 24 | 43 |
| 34 | Hungary | Lola | Más lettél | 16 | 60 |
| 35 | Poland | Edita Górniak | Oj, kotku! | 23 | 44 |
| 36 | Switzerland | Pegasus | Rise Up (Black Dog) | 19 | 48 |
| 37 | Bulgaria | Mastilo | Do kraya | 34 | 21 |
| 38 | USA | Allstar Weekend | Blame It on September | 11 | 68 |
| 39 | Bosnia and Herzegovina | Marta Savić | Mama | DNQ | DNQ |
| 40 | Australia | Bluejuice | Act Yr Age | 22 | 46 |
The Results
Edit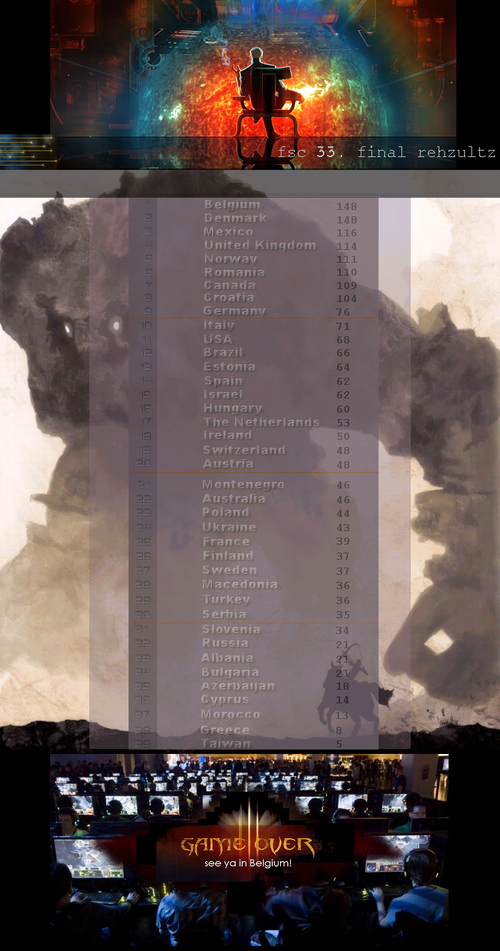 The winner
Edit
Gotye - Somebody that I Used to Know (ft. Kimbra)