February 2014 sees the 60th edition of FSC. It's held in Leipzig, Germany after Helene Fischer won the 59th edition of FSC with a song called "Atemlos Durch die Nacht".
39 juries participate in this edition. Austria and Belarus returned to the stage, while Australia didn't send an entry. We also had 3 newcomers: Luxembourg, South Africa and South Korea, but two of them (Luxembourg and South Korea) were subsequently disqualified and banned from the contest for breaking Forum rules.
The Host city
Edit
Germany has won the contest for the 6th time and has chosen to host the 60th edition of FSC in the beautiful German city of Leipzig.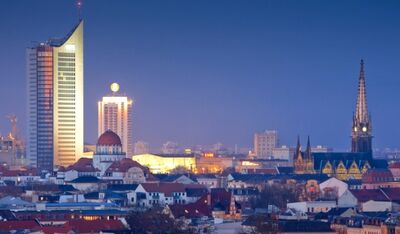 The Venue
Edit
The venue chosen for this event is the Neue Messe, Halle Eins.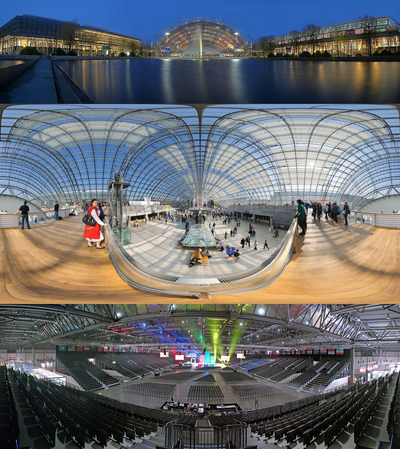 The Hosts
Edit
Our hosts for this edition are Sonja Zietlow and Daniel Hartwich. Zietlow is a famous TV personality in Germany and has hosted several TV programs. Before she started her media career, she worked as a pilot for the German airline Lufthansa. Hartwich has presented major network shows such as Das Supertalent and Let's Dance. He graduated in political science.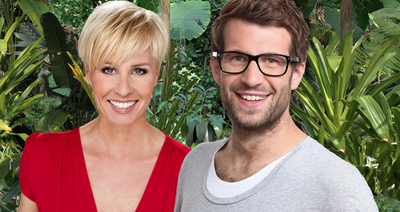 The Show
Edit
| Draw | FSC jury | Performer | Song | Place | Points |
| --- | --- | --- | --- | --- | --- |
| 01 | Switzerland | Kadebostany | Jolan | 6 | 96 |
| 02 | Slovenia | Tabu | Hvala Za Ribe | 16 | 55 |
| 03 | Cyprus | Anna Vissi & Antonis Remos | Ena I Kanena | 4 | 105 |
| 04 | Belgium | Karolien | Lightspeed | 8 | 93 |
| 05 | Czech Republic | No Distance Paradise | See the Light | 21 | 47 |
| 06 | Ukraine | Tina Karol | Zhyzn Prodolzhaetsya | 22 | 47 |
| 07 | Luxembourg | Serge Tonnar & The Legotrip | Den Hit Op Rtl | / | / |
| 08 | Bulgaria | Siana | Vinovna Bez Vina | 26 | 43 |
| 09 | Canada | The Weeknd | Devil May Cry | 24 | 45 |
| 10 | Spain | Ricky Martin | Come With Me | 9 | 86 |
| 11 | Malta | Nosnow/Noalps | N.E.W. | 34 | 28 |
| 12 | Estonia | Kye Kye | Dreams | 11 | 75 |
| 13 | Turkey | Mercan Dede ft. Azam Ali | Masal | 25 | 44 |
| 14 | United States | Sky Ferreira | I Blame Myself | 17 | 53 |
| 15 | Russia | Nickolay Baskov ft. Natalie | Nickolay | 3 | 115 |
| 16 | Indonesia | Sherina | Sebelum Selamanya | 32 | 32 |
| 17 | Romania | Emmah Toris | Ne Intamplam | 28 | 40 |
| 18 | Taiwan | Hebe Tien | Learning From Drunk | 13 | 64 |
| 19 | Hungary | Joni | Chain You | 12 | 70 |
| 20 | Greece | Alexandros Mirtos | Kratise Me | 15 | 55 |
| 21 | The Netherlands | Diesel Disko ft. Stefany June | Moonlight | 1 | 128 |
| 22 | Macedonia | Karolina Goceva | Chalgiska | 2 | 119 |
| 23 | South Africa | The Parlotones ft. Khuli Chana | Sleepwalker | 14 | 59 |
| 24 | Sweden | Agnetha Faltskog | I Was A Flower | 10 | 80 |
| 25 | Serbia | Jelena Tomašević | Radio Svira Za Nas | 27 | 41 |
| 26 | Croatia | Pavel | Čuvaj me | 23 | 45 |
| 27 | United Kingdom | Ellie Goulding | Hearts Without Chains | 5 | 102 |
| 28 | Finland | Robin, Uniikki & Mikael Gabriel | Boom Kah | 20 | 47 |
| 29 | Israel | Roni Alter | Lazy | 19 | 50 |
| 30 | South Korea | Insooni | Burn | / | / |
| 31 | Brazil | Barbara Eugenia | Jusqu´ à la mort | 30 | 36 |
| 32 | Mexico | Rabia Sorda | Deaf | 35 | 25 |
| 33 | Germany | Helene Fischer | Fehlerfrei | 29 | 37 |
| 34 | The Philippines | Silent Sanctuary | Bumalik Ka Na Sa 'Kin | 37 | 11 |
| 35 | Belarus | Atlantica | Home | 36 | 21 |
| 36 | Albania | Cha Cha Darabuka ft. Dj Ce1 | Love In Love | 33 | 31 |
| 37 | Norway | Sirenia | My Destiny Coming To Pass | 18 | 51 |
| 38 | Austria | Thomas David | Able | 31 | 33 |
| 39 | Ireland | U2 | Ordinary Love | 7 | 95 |
The Results
Edit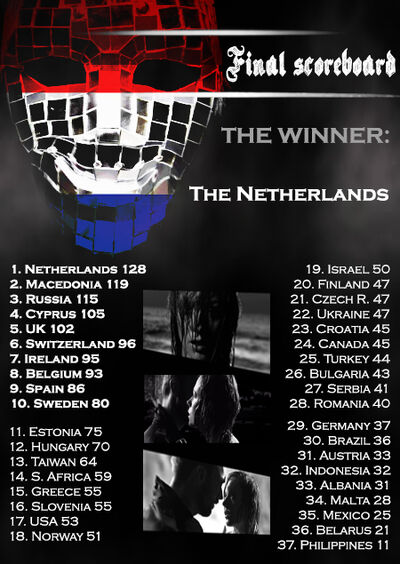 The Winner
Edit
Diesel Disko ft. Stefany June - Moonlight: