April 2016 saw the 86th edition of Forum Song Contest, held in the city of Lviv, Ukraine, after group The Hardkiss won the preceding edition.
28 nations gathered in Ukraine, one less than in the last edition: While Austria and Brazil returned after one-edition absences, France, Malaysia and the United States did not send an entry.
Australia scored its fifth FSC thanks to Sia and her song "Unstoppable". This marks the second time Sia wins the competition (the last time being October 2015) and makes her join the group of multiple winners, that includes (at point of FSC 86) artists like Tom Dice, Ella Henderson, Rachel Platten, among others. Croatia earned the silver medal.
Switzerland would have reached the third place, but it did not vote, so the Swiss entry was moved to the bottom of the scoreboard - with the benefit for Japan, who now filled the top three. Furthermore, the fourth place for the FSC Philippines means their best ranking to date and their first top ten place in nearly two years.
The Host City
Edit
Lviv is the largest city in western Ukraine and the seventh largest city in the country overall, and one of the main cultural centres of Ukraine. Named in honor of the Leo, the eldest son of Rus' King Daniel of Galicia.
Lviv was the centre of the historical region of Galicia. The historical heart of the city, with its old buildings and cobblestone streets, survived Soviet and German occupations during World War II largely unscathed. The city has many industries and institutions of higher education such as Lviv University and Lviv Polytechnic. Lviv is also the home of many world-class cultural institutions, including a philharmonic orchestra and the famous Lviv Theatre of Opera and Ballet. The historic city centre is on the UNESCO World Heritage List.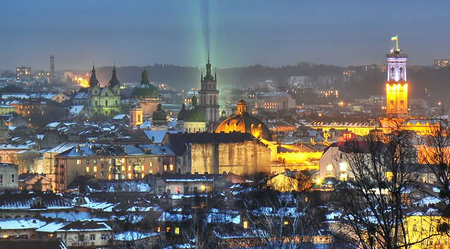 The Venue
Edit
Arena Lviv is a football stadium in Lviv, Ukraine. It was one of the eight UEFA Euro 2012 venues, where it hosted three of the group-stage games. According to the official plans, the stadium has a total seating capacity of 34,915.
Construction work began on November 20, 2008 and was completed by October 2011. The opening ceremony took place on 29 October, with a vast theatrical production dedicated to the history of Lviv and with the concert of the pop-star Anastacia.  The first football match in the stadium was played on 15 November 2011, between Ukraine and Austria.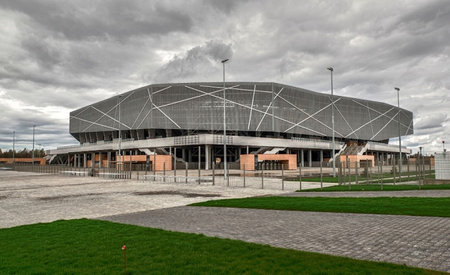 The Hosts
Edit
The hosts for this edition are TV host Hryhoriy Reshetnyk and actress and model Olga Kurylenko.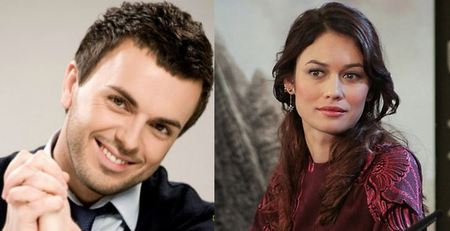 The Show
Edit
| Nr. | Jury | Artist | Song | Rank | Points |
| --- | --- | --- | --- | --- | --- |
| 01 | Switzerland | Ella on the Run | Rodeo Clowns | 28. | 93* |
| 02 | Australia | Sia | Unstoppable | 1. | 122 |
| 03 | Indonesia | Danang | Bidadari Jiwa | 19. | 39 |
| 04 | Estonia | Iiris | Iridescent Love | 21. | 35 |
| 05 | Norway | Bow to Each Other | Strobe Lights | 11. | 64 |
| 06 | Turkey | Simge | Yanki | 12. | 63 |
| 07 | Finland | Isac Elliot | No One Else | 25. | 22 |
| 08 | Bulgaria | Grafa | Drama Queen | 16. | 55 |
| 09 | Sweden | Avicii vs. Conrad Sewell | Taste the Feeling | 17. | 48 |
| 10 | Netherlands | Lorrèn | The Game of Love | 10. | 66 |
| 11 | Romania | Ivana | Tomorrow | 6. | 74 |
| 12 | Austria | Julian & der Fux | Vanille | 7. | 70 |
| 13 | Brazil | Mariana Rios | Reach Me | 20. | 38 |
| 14 | Taiwan | Matzka | UwaU (feat. A-Lin) | 23. | 28 |
| 15 | South Africa | Freshlyground | Don't Leave Me | 9. | 67 |
| 16 | Philippines | Marion | Wanna Be Bad | 4. | 78 |
| 17 | Israel | Eden Ben Zaken | Soref Li Be'ainaim | 5. | 75 |
| 18 | Germany | EFF | Stimme | 8. | 69 |
| 19 | Mexico | Banda El Recodo De Cruz Lizárraga | Si No Es Contigo | 24. | 24 |
| 20 | Czech Republic | AMCO | Nemusim nic | 27. | 11 |
| 21 | Serbia | Vanja Mijatovic | Vrati Kraj | 13. | 63 |
| 22 | United Kingdom | Marcus Butler | I'm Famous (feat. Conor Maynard) | 26. | 20 |
| 23 | Croatia | Vlaho | Home | 2. | 116 |
| 24 | Morocco | Namika | Kompliziert | 14. | 61 |
| 25 | Poland | Kasia Popowska | Graj | 15. | 60 |
| 26 | Russia | Timati | Baklazhan (feat. Rekord Orkestr) | 18. | 48 |
| 27 | Ukraine | Alyosha | Poruch | 22. | 34 |
| 28 | Japan | One OK Rock | Always Coming Back | 3. | 81 |
The Results
Edit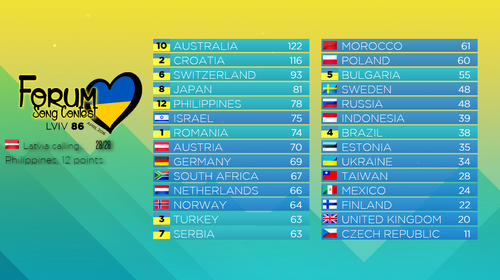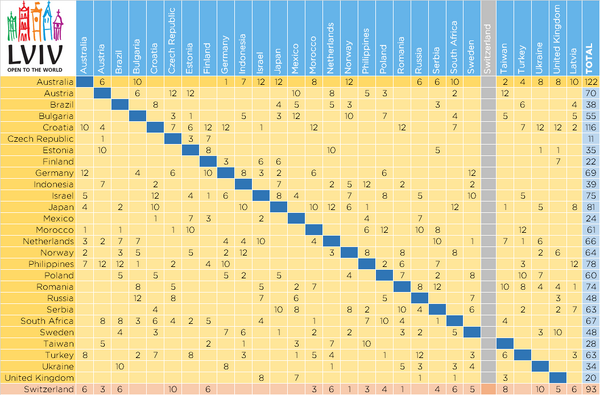 The Winner
Edit
Sia - Unstoppable: