August 2016 saw the 90th edition of Forum Song Contest, held in Oslo, Norway, after Alan Walker and Iselin Solheim have won the previous competition with their song "Sing Me to Sleep".
30 countries participated, including returnees Austria, Philippines and the United States. It was also the first FSC edition featuring an entry from Armenia. Belgium and Latvia however did not send an entry.
At the end of the voting, Norway emerged as the winning country again, thanks to the 126 points former ESC entrant Morland collected with his song "Skin". The Netherlands reached the second place and Italy came third, just like in FSC 89.
FSC 90 has become the first edition since FSC 74 in which no country failed to vote.
The Host City
Edit
Oslo is the capital and most populous city in Norway. Oslo is considered a global city and ranked "Beta World City" in studies carried out by the Globalization and World Cities Study Group. It was ranked number one in terms of quality of life among European large cities. As of 2016, the Municipality of Oslo has a population of 658,390, while the population of the city's urban area was 942,084.
The Venue
Edit
Oslo Spektrum is an indoor multi-purpose arena in Oslo, Norway. It opened in December 1990. Oslo Spektrum is primarily known for hosting major events, such as the Nobel Peace Prize Concert, the Eurovision Song Contest, and concerts by many artists of national and international fame. The seating capacity is 9,700. Currently Oslo Spektrum hosts a total of 100 events with some 400,00 visitors annually.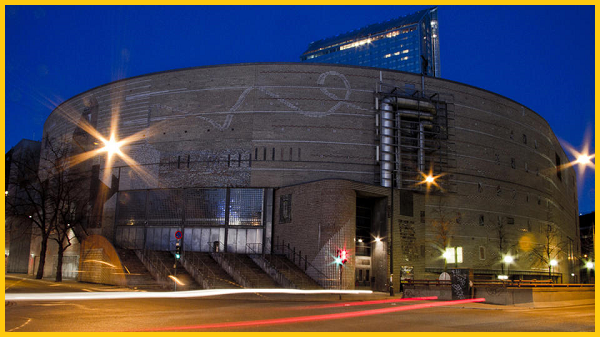 The Hosts
Edit
Tone Damli Aaberge (born 12 April 1988, in Sogndal) is a Norwegian singer. She became famous for being a contestant in the Norwegian version of the Idol series.
Lene Marlin (born Lene Marlin Pedersen, 17 August 1980, Tromsø, Norway) is a Norwegian singer and musician. Marlin has won four awards: Best Pop Solo Artist, Best Single ("Sitting Down Here"), Best Newcomer and the 1999 Artist Of The Year at the Spellemannprisen, the Norwegian equivalent to the Grammy awards, as well as the MTV Europe award for Best Nordic Act, presented in Dublin, Ireland in November 1999.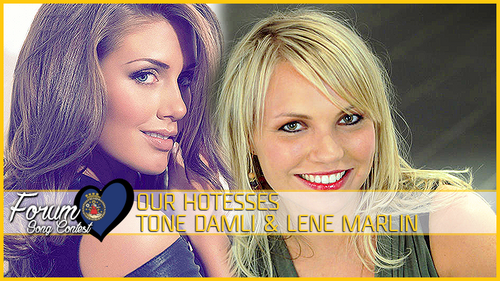 The Show
Edit
| Nr. | Jury | Artist | Song | Rank | Points |
| --- | --- | --- | --- | --- | --- |
| 01 | Serbia | Ana Kokic | Damelo | 14. | 60 |
| 02 | Finland | Alma | Karma | 12. | 63 |
| 03 | Sweden | Little Jinder | Super 8 | 18. | 43 |
| 04 | Czech Republic | Ewa Farna | Na Ostri Noze | 4. | 95 |
| 05 | Brazil | Baleia | Volta | 23. | 38 |
| 06 | Croatia | Petar Graso | Srce za Vodica (feat. Hana Huljic) | 28. | 22 |
| 07 | Italy | Giusy Ferreri | Volevo Te | 3. | 102 |
| 08 | Austria | Einhorn | Tuxedo Mask | 15. | 56 |
| 09 | Poland | Zabrocki & Katarzyna Nosowska | Czemu Wciaz Jest Czwartek | 30. | 16 |
| 10 | Indonesia | The Overtunes | Yours Forever | 19. | 42 |
| 11 | United Kingdom | Olly Murs | You Don't Know Love | 8. | 75 |
| 12 | South Africa | 4Werke | Jy Slaan Die Wind In My Seile | 22. | 41 |
| 13 | Denmark | Kongsted & Cisilia | Wild Child | 10. | 68 |
| 14 | Philippines | Marion | Free Fall Into Love | 17. | 46 |
| 15 | Mexico | Thalía | Desde Esa Noche (feat. Maluma) | 9. | 68 |
| 16 | Germany | Avantasia | Lucifer | 16. | 54 |
| 17 | Australia | The Veronicas | In My Blood | 6. | 89 |
| 18 | Norway | Morland | Skin | 1. | 126 |
| 19 | Russia | Therr Maitz | 365 | 7. | 78 |
| 20 | Taiwan | The Girl and the Robots | Seek and Hide | 13. | 63 |
| 21 | Armenia | Empyray | Ch'kartses | 21. | 41 |
| 22 | Estonia | Liis Lemsalu | Sinu Ees | 20. | 41 |
| 23 | Romania | Cristina Balan | Unbreakable | 5. | 93 |
| 24 | United States | Dawn | Honest | 26. | 31 |
| 25 | Ukraine | Natalie Papazoglu | Ne Voroh | 25. | 33 |
| 26 | Netherlands | Demira | Dragons | 2. | 109 |
| 27 | Bulgaria | Andrea | Love Is Mine | 24. | 36 |
| 28 | Hungary | Kowalsky Meg a Vega | Mit Mondjak Meg? | 29. | 18 |
| 29 | Malaysia | Ayda Jebat | Pencuri Hati | 27. | 27 |
| 30 | Turkey | Asli Demierer & Gökhan Türkmen | Korkak | 11. | 66 |
The Results
Edit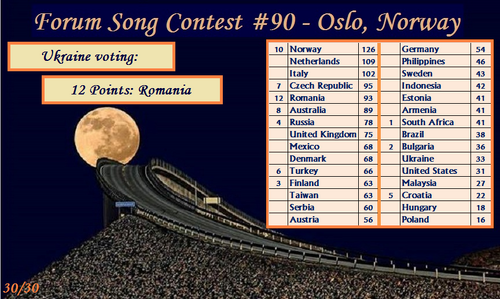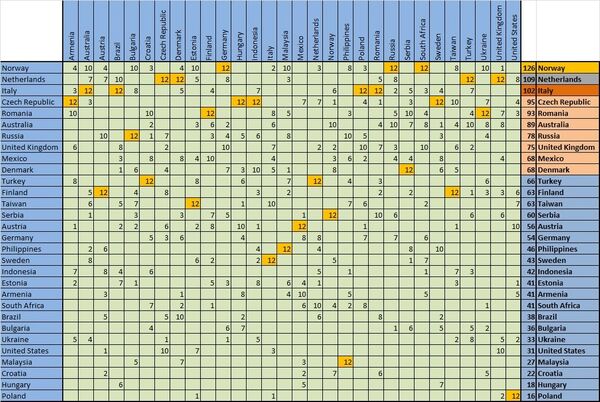 The Winner
Edit
MØRLAND - Skin: