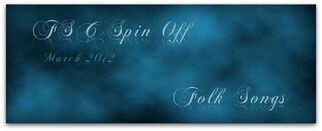 FSC Folk songs spin-off was a FSC spin-off, which happened in March and April 2012. It was hosted by Hele.
The reservation/confirmation thread was opened on March 7th and the deadline was set on March 15th. In this thread, players signed up for the contest and chose the country that they wanted to represent. After they chose the country, they had to select the entry as well. This entry had to represent folk music from selected country. Covers were also allowed and it didn't matter how old's the song.
The 23 entries were presented on March 19th by the organiser, who also presented the host city, venue and hosts. FSC Folk songs spin-off was hosted by Laura Pausini & Immanuel Casto in a lovely city of Naples (Italy). The host venue was Teatro Mediterraneo.
The results show occured on April 5th and 6th.
Entries & Results
Edit
| # | Country | Player | Performer | Song | Points / Place |
| --- | --- | --- | --- | --- | --- |
| 1 | Slovenia | Kryptonite | Slapovi | Ne reci nikdar | 17p / 21st |
| 2 | Japan | Paper7 | Rin' | Sakitama | 65 p / 6th |
| 3 | Kazakhstan | Scooby | Jado | Kamakhai | 24 p / 20th |
| 4 | Taiwan | BlueForever | Joanna Wang | Lost in Paradise | 63 p / 9th |
| 5 | Albania | une | Poni | Jap e jap | 31 p / 19th |
| 6 | Spain | Simon87 | Maria Villalon | Aquita de Abril | 75 p / 4th |
| 7 | BIH | Haustor | Silvana Armenulić | Da sam ptica | 11 p / 22th |
| 8 | Ireland | LokoFan444 | Celtic Woman | The Voice | 79 p / 3rd |
| 9 | Cyprus | CypriotGirl | Nikolas Metaxas | Ah triantafyllia mou | 62 p / 10th |
| 10 | Ukraine | ixic | Verka Serduchka | Gop gop | 3 p / 23th |
| 11 | Switzerland | thevoice | Eluveitie | Brictom | 62 p / 11th |
| 12 | Russia | busybee | Katyuska | Chelsea | 69 p / 5th |
| 13 | Romania | Sahistul | Electric Fence | Sun-ta | 47 p / 15th |
| 14 | Azerbaijan | Narmina | Abbas | Sari gelin | 53 p / 13th |
| 15 | Mexico | handeyener | Thalia | Amor a la Mexicana | 63 p / 8th |
| 16 | France | Charlyje | Soagig | Ar Soundarded | 39 p / 16th |
| 17 | Croatia | Hele. | Colonia ft. Slavonia band | Gukni golube | 79 p / 2nd |
| 18 | Turkey | Grinch | Kagim Koyoncu | Denigade kararti var | 35 p / 17th |
| 19 | Belarus | Gera11 | Alexander Rybak | Kupalinka | 33 p / 18th |
| 20 | Finland | r3gg13 | Jenni Vartiainen | Nettiin | 63 p / 7th |
| 21 | Hungary | RomanFromRussia | Paddy and the Rats | Pilgrim on the road | 97 p / 1st |
| 22 | Slovakia | Cooler | Kristina | Life is a Game | 58 p / 12th |
| 23 | Faroe Islands | VasilijeM | Eivor | Trollabundin | 50 p / 14th |
Final Scoreboard & The Winner
Edit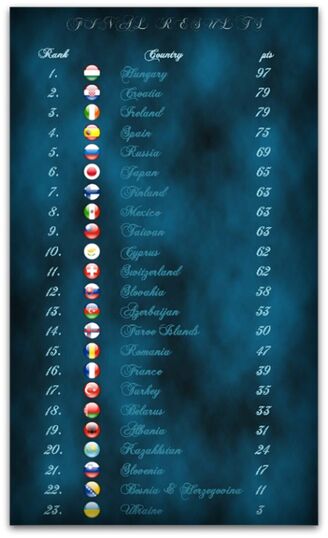 The winner: Hungary: Paddy and the Rats - Pilgrim on the road (RomanFromRussia)