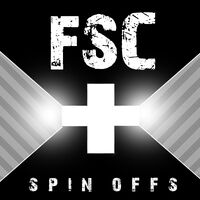 FSC spin-offs are special editions of FSC (Forum Song Contest). They can be attended by
any
member of Escforums, regardless of the fact if this player joined regular FSC.
They provide an additional fun for players, who want to present new songs, which have to be connected with the theme. The latter is chosen via a poll, which consists of ideas/suggestions that were posted by players. Suggestion with most votes becomes the next months theme.
Rules for a certain FSC spin-off can vary, but they are always introduced in advance (before you actually sign-up for it). FSC spin-off is a great possibility to try out hosting as well, because (unlike regular FSC where mods do it) you can volunteer to host it.
List of FSC spin-offs
Edit
| # | Name | Month & year (results show) |
| --- | --- | --- |
| 1 | Old Music Contest 1970 | October 2009 |
| 2 | Old Music Contest 1980 | November 2009 |
| 3 | RSC/H-DMC #3 | November 2009 |
| 4 | RSC/H-DMC #4 | December 2009 |
| 5 | Old Music Contest 1990 | December 2009 |
| 6 | H-DMC #5 | January 2010 |
| 7 | H-DMC #6 | Februar 2010 |
| 8 | Old Music Contest 2000 | March 2010 |
| 9 | H-DMC #7 | March 2010 |
| 10 | H-DMC #8 | April 2010 |
| 11 | FSC World Cup #1 | August 2010 |
| 12 | FSC Copa America #1 | September 2010 |
| 13 | FSC Euro Cup #1 | October 2010 |
| 14 | FSC Mix-up spin-off #1 | November 2010 |
| 15 | FSC World Cup #2 | January 2011 |
| 16 | FSC Winter/X-mas spin-off #1 | January 2011 |
| 17 | FSC Eurovision 2011 | May 2011 |
| 18 | FSC Copa America #2 | May 2011 |
| 19 | FSC Euro Cup #2 | June 2011 |
| 20 | FSC Songs from movies spin-off | July 2011 |
| 21 | FSC TV spin-off | August 2011 |
| 22 | Non-ESC songs by ESC artists spin-off | September 2011 |
| 23 | FSC Mix-up spin-off #2 | November 2011 |
| 24 | FSC Winter/X-mas spin-off #2 | December 2011 |
| 25 | FSC Worst Song Contest spin-off | January 2012 |
| 26 | FSC Love songs spin-off | February 2012 |
| 27 | FSC Folk songs spin-off | April 2012 |
| 28 | Robbed songs in national finals spin-off | April 2012 |