FSC Robbed songs in ESC national finals spin-off was a FSC spin-off, which occurred in April 2012. It was hosted by thevoice.
The reservation/confirmation thread was opened on April 7th and the deadline was set on April 14th. In this thread, players signed up for the contest and chose the country that they wanted to represent. When they chose the country, they had to choose the entry as well. This entry had to appear in national final of selected country (any year).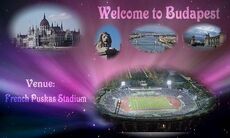 The 28 entries were presented on April 15th, together with the host city, venue and hosts. The event was situated in Budapest, Hungary, because this country won the previous FSC spin-off. Host venue of the spin-off was French Puskas Stadium and the hosts were Tibor Kocsis and Szivilia Peter Szabo.
Entries & Results
Edit
| # | Country | Player | Performer | Song | Points / Place |
| --- | --- | --- | --- | --- | --- |
| 1 | Slovenia | Kryptonite | Nina Pušlar | Dež | 90p / 5th |
| 2 | Israel | Hele | Chen Aharoni | Or | 105p / 3rd |
| 3 | Spain | Anjeza | Coral | Er Una Vida | 64p / 12th |
| 4 | Albania | handeyener | Alban Skenderaj ft. Miriam | Ende ka Shprese | 34p / 20th |
| 5 | Austria | Grinch |  !Deladap | Don't turn around | 31p / 22th |
| 6 | The Netherlands | KeucFan | Raffaela | Chocolatte | 49p / 16th |
| 7 | Portugal | r3gg13 | Catarina Pereira | Canta por Mim | 99p / 4th |
| 8 | Czech Republic | nofuxCZ | Helena Zet'ova | Love me Again | 41p / 19th |
| 9 | Moldova | Gera11 | Dara | Open your Eyes | 47p / 17th |
| 10 | Italy | busybee | Anna Tatangelo | Bastardo | 57p / 13th |
| 11 | Azerbaijan | Narmina | Ulviyye Agayeva ft. Alim | Follow my Way | 8p / 28th |
| 12 | Romania | ixic | Akcent | Jokero | 30p / 25th |
| 13 | Russia | Charlyje | Julia Volkova ft. Dima Bilan | Back to her future | 68p / 10th |
| 14 | Iceland | LokoFan444 | Yohanna | Nott | 115p / 1st |
| 15 | Cyprus | Cypriotgirl | Valando Tryfonos | After you | 31p / 23th |
| 16 | Finland | evilperson | Johanna Kurkela | Olet Uneni Kaunein | 51p / 15th |
| 17 | United Kingdom | theditz83 | Deuce | I need you | 27p / 26th |
| 18 | Norway | RomanFromRussia | Reidun Saether | High on love | 77p / 8th |
| 19 | Ukraine | Miguel | Max Barskih | Dance | 89p / 6th |
| 20 | Croatia | LakZaNohte | Luka Nizetić ft. Klapa | Proljeće | 67p / 11th |
| 21 | Denmark | Megasalt | Stine Kinck | Hvad Hjertet Lever Af | 20p / 27th |
| 22 | Serbia | sannerz | Jelena Tomošević | Jutro | 115p / 2nd |
| 23 | Greece | -M- | Tamata | With Love | 78p / 7th |
| 24 | Germany | FabiESC | Monrose | Even Heaven Cries | 52p / 14th |
| 25 | Estonia | VasilijeM | Lenna | Mina jään | 45p / 18th |
| 26 | Ireland | thevoice | Celtic Aura ft. Maria McCool | Mistaken | 31p / 24th |
| 27 | Sweden | Simon87 | Nanne Grönvall | Hall Om Mig | 71p / 9th |
| 28 | Belgium | Sim | Katy Satyn | Magical Sensation | 32p / 21th |
Final scoreboard & The Winner
Edit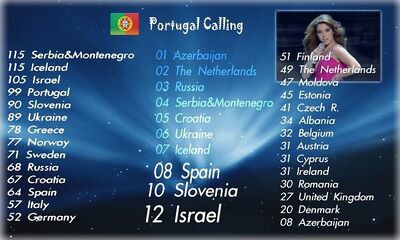 The winner: Iceland: Yohanna - Nott (LokoFan444)